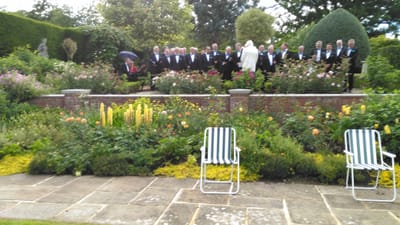 Basingstoke Hospital MaleVoice Choir was formed in March 2011 to provide a means of relaxation for hospital staff. The initial membership was 8 and has now increased to 35+ and includes people who are not staff members but enjoy singing in a choir.
The Choir has sung at many events and venues where local charities have been holding a fund raising event and is very proud of its achievement in helping to raise a considerable amount of money for good causes. In particular they support The Ark Cancer charity to raise funds at every opportunity.
They are honoured to be a member of Basingstoke Festival of Choirs and have sung at the Anvil Theatre for all the events the festival has staged.
The choir is very grateful to musical director Dai Ogborn BEM and accompanists Steve Busby and Paul Wright who are the backbone of the choir without whose support they could not have achieved the standard that enables them to perform at these events.
BHMVC is very appreciative of the support of the Basingstoke and North Hampshire Hospital and as a "thank you" to the hospital the bow tie that forms part of their uniform is custom made in the hospital colours.
When Mr Myrddin Rees DL MS FRCS FRCS(Ed) OBE - Consultant Hepatobiliary Surgeon agreed to be Honorary President of the choir it further cemented the relationship between them and the hospital.
If you have any queries or would like to know more about the choir please do not hesitate to contact The Chairman on the contacts page.
The choir are proud to be members of:
Basingstoke Festival of Choirs
National association of choirs